Battle at Stonehenge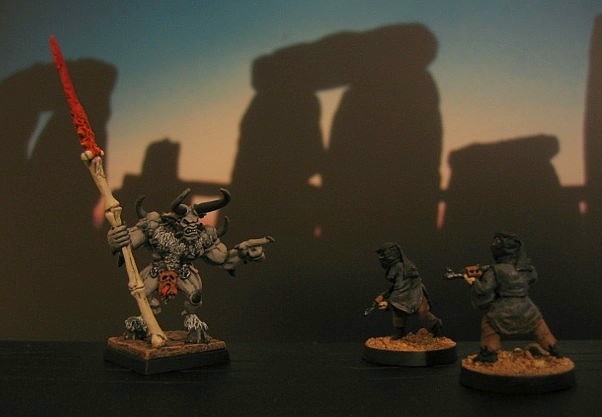 Miniature (c) Heresy Miniatures & Devil Dog Design
Based on DOGS OF WAR (c) DEVIL DOG DESIGN, this game supplement has been written to provide an alternative modern world that pits humanity's finest warriors against the denizens of Netherhell.
The game DOGS OF WAR is without a doubt, one of my favourite miniature systems available today. The use of Action Points and the rules mechanisms themselves provide for a realistic and fun game that provides infinite scenario ideas and outcomes. The possibility and ease of using the rules for fantasy based games, especially based on the excellent fantasy figures produced by HERESY MINIATURES, drew me to write these rules. This is not a complete game. Possession of the DOGS OF WAR rules is necessary for play.
I have included rules for a certain 'seasonal' demonic creature in the supplement, to make Xmas gaming a fun experience.............. just watch out for runaway Sleighs!!!!!!!!!!!
To download the supplement (1.28Mb), click on the link below, then select 'Save'.

Information:
Current Status:
Permission has been granted from Devil Dog Design and Heresy Miniatures.
Everything has been completed, download and enjoy!
Other bits n pieces:
The supplement is hosted here, and also at the Hounds of Hell Yahoo Group and Devil Dog Design website.
There shall be additional supplements based on future additions to the Heresy Miniature range, and also based on the supplement's popularity.
You don't need to have the DoW Rulebook to use this supplement, the free rules from the DDD website are quite suitable (although the full rules give a lot more to the game). You can download the free rules from here.